For many of us, New Year's celebrations have winded down as the January 'back-to-work' reality sets in. But everywhere SANDEMANs operates, there's another big celebration on the horizon: Chinese New Year! Outside of the Middle Kingdom, ethnic enclaves in some of our favourite cities – also known as Chinatowns – will be at the heart of these celebrations, awash with the sights, sounds and tastes of this magical time of year! So, to help you plan an amazing Chinese New Year (or even an 'out-of-season' visit) we've got the rundown of the best things to do in four of our favourite Chinatowns!
1. Amsterdam, Zeedijk
Amsterdam's Chinatown is by no means the biggest on this list, but it's an easy and welcome detour for any visitor to the adjacent Red Light District or Nieuwmarkt. Amsterdam's Chinese community has called Zeedijk its home since the 1910s, despite Sino-Dutch trade going for much longer. Though eclipsed in number by the Indonesian diaspora, the Chinese community has carved out a cosy, central part of Amsterdam for itself – and built the largest Chinese Buddhist temple in all of Europe! The Fo Guang Shan He Hua is the iconic landmark here: it's the heart and soul of the community, as well as the hub for all New Year's celebrations, with the Dragon parade starting from its iconic gate. Not content with just one landmark, Amsterdam's Chinatown offers some alternative retail therapy at the continent's largest Asian department store, Toko Dun Yong. Here, you can even stick around for cooking classes or an authentic meal on the fifth floor! For something a bit less ostentatious, the Sea Palace restaurant (a three-storey, pagoda-shaped floating restaurant) is as popular with local 'dammers on a business dinner as it is visitors from afar looking for somewhere memorable to go!
HIGHLIGHTS: He Hua Temple, Toko Dun Yong department store, Sea Palace Restaurant.
EVENTS: 25th January – Chinese New Year Parade starting at He Hua Temple, ending at Nieuwmarkt square, as well as a catalogue of cultural activities at the Temple itself, such as Calligraphy and Dharma philosophy classes.
2. Liverpool, Nelson Street/Great George Square
Liverpool's Chinatown has had mixed fortunes since its heyday in the 1980s. Both the Economist and the Liverpool Echo have cast aspersions over its future, and a major regeneration project tipped for 2015 remains on hold. Still, the grand arch: the largest paifang of its kind outside of China (and a gift from Liverpool's sister city, Shanghai) is an impressive attraction in its own right. Beyond the gate, the district's local restaurants and supermarkets sell imported goods to serve the community rather than to draw in the tourists. As such, it's a humbler existence than what you might expect for what is perhaps the oldest Chinatown in Europe: this area has maintained a consistent Chinese population since the 1860s, initially housing sailors and labourers serving the silk and cotton trade that boomed in this former Imperial port city. Nevertheless, the now-sleepier quarter bursts into life around Chinese New Year, with a massive parade at Great George Square, which is punctuated by a range of delightful cultural activities, such as Tai Chi classes, Martial Arts demonstrations, art installations and traditional music performances. You'll also want to look out for the red lights – to symbolise prosperity and good fortune – illuminating many of Liverpool's most iconic monuments (such as the Liver building, and our free tour start point at St. George's Hall!).
HIGHLIGHTS: Nelson Street Paifang (Arch), Illuminations (around Liverpool), Late-night Karaoke at ChinaCity Bar and Restaurant.
EVENTS: Sunday 26th January – Dragon and Unicorn parades start at Great George Square, with a variety of cultural activities from local Chinese associations taking place here as well.
3. London, Wardour Street/South of Soho
The bright lights and buzzing multitudes of London's Chinatown are nearly impossible to avoid: not that you'd want to – it's as necessary a sight to see as Leicester Square or Trafalgar Square (which it conveniently neighbours). Walking its densely-packed streets, you wouldn't guess that this bustling and exceptionally vibrant quarter is actually the youngest Chinatown of all! Only since the 1970s has this part of the West End served as the cultural heart of London's Chinese community: the original homes of Chinese Londoners in Limehouse were bombed out during World War II. That being said, it's not just Chinese in Chinatown – with everything from Malaysian laksa houses, Filipino ice cream parlours, Japanese ramen bars, and Cantonese dim-sum eateries, it would seem as if all East Asia has made these few streets home. It's no surprise, then, that Chinese New Year here is a tasty affair, with the over-the-top ceremonies in Trafalgar Square being fuelled by food stalls aplenty. And if you pop into the neighbouring National Gallery, you might learn enough in a special workshop to become a professional dumpling artist!
HIGHLIGHTS: Wardour Street Arch, eating your way through the continent, and putting your sweet tooth through its paces with a Macaron ice-cream sandwich at Yolkin.
EVENTS: 26 January – A parade starts at Shaftesbury Avenue, snakes through Chinatown and ends at Trafalgar Square, where a large stage hosts a programme of musical and cultural performances. Cultural workshops can be found at the National Gallery, whilst demonstrations and classes can be found in community areas in Shaftesbury Avenue, Leicester Square and Charing Cross Road.
4. New York, Canal Street
It's amazing that with an estimated population of 100,000 Chinese – the largest concentration of Chinese people in the Western Hemisphere – Manhattan's Chinatown is still in the shadow of its west coast cousin in San Francisco. Nevertheless, this is the most famous of the nine Chinatowns in the Big Apple, and not without reason: from Gangs of New York to Grand Theft Auto, the gritty image of Chinatown of old – and indeed the whole Five Points neighbourhood – has been deeply explored in pop culture. But of course, it's a lot safer now, and today it serves as a living, breathing cultural showcase to visitors. There's more than enough to do in a day, from visiting Canal Street market – where astute hagglers and Time Out foodies rub shoulders to engage in their craft – to stopping in Columbus Park (a favourite haunt of elderly folks practising Tai Chi and playing Xiangqi). For those more historically-minded, the intriguing Museum of Chinese in America charts the fascinating, whirlwind journey of the significant Chinese diaspora in the United States.
There's no question that Chinatown, Little Italy and Brooklyn are some of NYC's most iconic neighbourhoods! From the thrilling stories of the once-feared gangs of New York to inspiring views from the Brooklyn Bridge (and insider tips for the tastiest bites in each neighbourhood), we'd love to show you it all!
HIGHLIGHTS: Canal Street Market, Museum of the Chinese in America, Columbus Park, SANDEMANs Chinatown, Little Italy and Brooklyn Bridge Tour.
EVENTS: January 25th – Lunar New Year Firecracker Ceremony (Sara D. Roosevelt Park), as well as Parades at the Botanical Garden and St. George's Church (both Queens borough). The Manhattan Parade takes place on February 9th on Canal Street.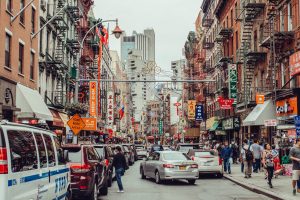 新年快乐! – Happy New Year!