ABOUT THE Free Tour of Tel Aviv
History meets modernity in Tel Aviv, one of the Middle East's most exciting cities. While this might be one of the oldest inhabited places in the world, today it's also one of the most progressive, as you'll discover on this 2-hour free walking tour.
One of the oldest inhabited places on Earth
The Tel Aviv free walking tour meets daily by the Clock Tower in Old Jaffa, and takes you directly into the old town. Jaffa has been destroyed and rebuilt dozens of times over the past millennia, as you'll discover as you stroll through the Zodiac Alleys, and past the iconic Jama al Bahr Sea Mosque, and as you look out to Andromeda's Rock, where Andromeda was to be sacrificed to the sea monster in Greek mythology.
Major events of the 20th century
While Tel Aviv might have thousands of years of human history, some of the world's most significant events took place there within in the past 100 years. See where Nazi Adolf Eichmann was imprisoned as he awaited trial, learn about the Jaffa Riots which started in the city before spreading through the country, and hear about the British Mandate and Tel Aviv's inclusion in the proposed Jewish state.
A modern, lively city
"Jerusalem prays and Tel Aviv plays" is a quote you might come across while visiting Israel, and on the Old Jaffa walking tour, you'll understand why. While you will see major Old Jaffa landmarks like the Jaffa Lighthouse, the Lion Temple and St Peter's Church, your expert licensed guide will also be happy to tell you about modern life in Tel Aviv, and to give you recommendations for restaurants, bars and the best places to swim at the beach.
Your booking options
We're now offering 2 different booking options for individuals for our Free Tour of Tel Aviv.
Confirmed Booking Benefits:
For tours at capacity, you're guaranteed a place
Free confirmed rebooking up to 24hrs before your tour
Free cancellation up to 48hrs before your tour
Booking a confirmed reservation supports guides
Unconfirmed Booking Benefits:
FREE!
Cancellations not required, but highly appreciated
Booking ahead helps us plan for your best experience
A third of unconfirmed bookings are promoted to the tour
Read more
TOUR HIGHLIGHTS
The Tel Aviv Free Tour starts by the Clock Tower in Old Jaffa
Stroll through the fantastic Zodiac alleys
Get incredible views of the sea, the Sea Mosque and the Jaffa Lighthouse
See Adolf Eichmann's prison
Hear the biblical tale of Jonah and the Whale, and see Andromeda's Rock from Greek mythology
TOUR SCHEDULES
English - Unconfirmed Bookings
English - Confirmed Bookings
PHOTOS
Inclusions & exclusions
What's included
Local licensed English-speaking guide
What's not included
Gratuities for the guide (optional)
Additional Information
Our business is connecting great guides and smart travelers, and we're proud that so many local guides employ us to welcome travelers like you on their journey through some of the world's best cities. No two tours are alike, and the sites, stories, and length of the tour will vary depending on what your freelance guide decides is best. That's why the tours we promote never get stale or feel scripted, and why both independent guides and savvy travelers prefer SANDEMANs
Unfortunately, this tour is not wheelchair accessible. As Jaffa is an ancient city, there are stairs, uneven surfaces and hills
The Free Tour of Tel Aviv ends near the meeting point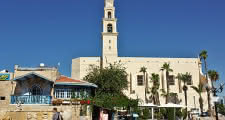 Tour starts here
Tour usually ends here
What is a Free Tour?
The Free Tour is the best introduction to Tel Aviv! A general overview tour including many of the highlights of the city, the Free Tour usually lasts around 2 hours and is provided by a local freelance guide in partnership with SANDEMANs NEW Europe, so tour content can vary depending on your guide's particular area of interest and expertise.
The Free Tour is a walking tour with no need for public transport and is designed for independent travellers, not groups. You can book your spot in advance online or simply show up at the start point on the day. There is no payment necessary at the start of the tour but you are welcome to tip your guide at the end!
We believe in supporting local communities and are committed to giving a voice to some of Tel Aviv's best local freelance tour guides, who passionately share the city's history and culture with their own unique and always-entertaining style. They'll never pressure you to tip; we believe that, if money is given, it should be voluntary and in direct proportion to the quality of the tour and the budget of the traveller.
Why join the SANDEMANs FREE Tour?
The route covers many of Tel Aviv's Old Jaffa major landmarks
The meeting point is centrally located in Old Jaffa
The Free Tour is guaranteed to fit within your budget
The guides performing tips-based Free Tours are incentivized to perform every time
WALKING TOURS & ACTIVITIES IN TEL AVIV
Filter by
Select Tour
Private Tour
Third Party Activity
Temporarily suspended
Participation in tours promoted by SANDEMANs NEW Europe is strictly on a voluntary basis. Neither SANDEMANs NEW Europe, nor the self-employed freelance guides who are the providers of the tours promoted by SANDEMANs NEW Europe, will be held responsible in any way for injuries to body or property incurred during tours. The tour guides reserve the right to deny participation in any tour, to any person, for any reason. Thank you for your understanding.