ABOUT THE Barcelona Gaudí & Modernism Free Tour
This 3-hour Gaudí and Modernism walking tour covers all the main sites of Antoni Gaudí and his work. Visit the Eixample district, hear about the Modernism movement and, of course, see the world-famous Sagrada Família. During this tour we dig deep into the roots of the movement and explore the social unrest and political issues that the glossy guidebooks ignore. The result is an unforgettable portrait of one of the world's greatest cities and a tribute to some of its most talented designers.
Your Gaudí and Modernism Tour starts In front of the Apple Store, on Passeig de Gràcia 1, and finishes in front of the Sagrada Família.
Gaudí's major masterpieces
Your expert local guide will take you on a tour of the must-see sites related to Gaudí in Barcelona. Millions come from around the world to see the famed Sagrada Família, but in fact, Gaudí's stamp of genius is all over the city. Visit the stunning residential building Casa Milá (La Pedrera). See the Casa Batlló, adjusted by Gaudí from conventional house to masterpiece. As you stroll through the Eixample district, you'll see works not only of Gaudí, but also of other stars of the Modernism movement.
The spirit of a generation
Much of Gaudí's genius can be attributed to social upheaval and the political issues of the time. On this walking tour, your expert guide will not only show you Gaudí's Barcelona masterpieces, but will also tell you about major events that impacted him, like the Tragic Week, when the Spanish Army clashed with Barcelona's working class. You will need this background to fully appreciate his genius and the Zeitgeist of when he developed his creations.
The intriguing life and tragic death of Antoní Gaudí
Don't just see the sites – hear about the life and genius of the man himself, including his poor health as a child, his devout Catholic faith and strict vegetarianism, unorthodox working style (he rarely drew complete plans), and of course, his tragic death.
Your booking options
We're now offering 2 different booking options for individuals for our Free Tour of Barcelona.
Confirmed Booking Benefits:
For tours at capacity, you're guaranteed a place
Free confirmed rebooking up to 24hrs before your tour
Free cancellation up to 48hrs before your tour
Booking a confirmed reservation supports guides
Unconfirmed Booking Benefits:
FREE!
Cancellations not required, but highly appreciated
Booking ahead helps us plan for your best experience
A third of unconfirmed bookings are promoted to the tour
Read more
TOUR HIGHLIGHTS
The Barcelona Gaudí & Modernism Tour starts In front of the Apple Store, on Passeig de Gràcia 1
Discover Gaudí's life, death and life's work
Marvel at the world-famous Sagrada Família
Be introduced to the stars of the Modernism era
Visit other Gaudí masterpieces like Casa Batlló and Casa Milà (La Pedrera)
Stroll down the Passeig de Gràcia and through the Eixample district
See Casa Lleó-Morera
PHOTOS
Inclusions & exclusions
What's included
Local English-speaking guide
What's not included
Entrance to the Sagrada Família
Transportation
Gratuities for the guide (optional)
Additional Information
Our business is connecting great guides and smart travelers, and we're proud that so many local guides employ us to welcome travelers like you on their journey through some of the world's best cities. No two tours are alike, and the sites, stories, and length of the tour will vary depending on what your freelance guide decides is best. That's why the tours we promote never get stale or feel scripted, and why both independent guides and savvy travelers prefer SANDEMANs
Wheelchair accessible
You will need to purchase a single metro ticket to join this tour
The Barcelona Gaudí & Modernism Tour starts just In front of the Apple Store, on Passeig de Gràcia 1
Open in Google Maps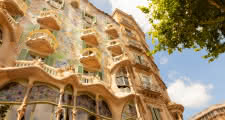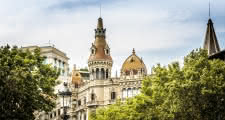 Tour starts here
Tour usually ends here
What is a Free Tour?
The Free Tour is the best introduction to Barcelona! A general overview tour including many of the highlights of the city, the Free Tour usually lasts around 2.5 hours and is provided by a local freelance guide in partnership with SANDEMANs NEW Europe, so tour content can vary depending on your guide's particular area of interest and expertise.
The Free Tour is a walking tour with no need for public transport and is designed for independent travellers, not groups. You can book your spot in advance online or simply show up at the start point on the day. There is no payment necessary at the start of the tour but you are welcome to tip your guide at the end!
We believe in supporting local communities and are committed to giving a voice to some of Amsterdam's best local freelance tour guides, who passionately share the city's history and culture with their own unique and always-entertaining style. They'll never pressure you to tip; we believe that, if money is given, it should be voluntary and in direct proportion to the quality of the tour and the budget of the traveler.
Why join the SANDEMANs FREE Tour?
Expert local guides
Theme specific tours
Location specific tours
The Free Tour is guaranteed to fit within your budget
The guides performing tips-based Free Tours are incentivized to perform every time
Participation in tours promoted by SANDEMANs NEW Europe is strictly on a voluntary basis. Neither SANDEMANs NEW Europe, nor the self-employed freelance guides who are the providers of the tours promoted by SANDEMANs NEW Europe, will be held responsible in any way for injuries to body or property incurred during tours. The tour guides reserve the right to deny participation in any tour, to any person, for any reason. Thank you for your understanding.